Baron Chocolatier, which is producing the sweets for her Sugarpova brand, says it believes she made an honest mistake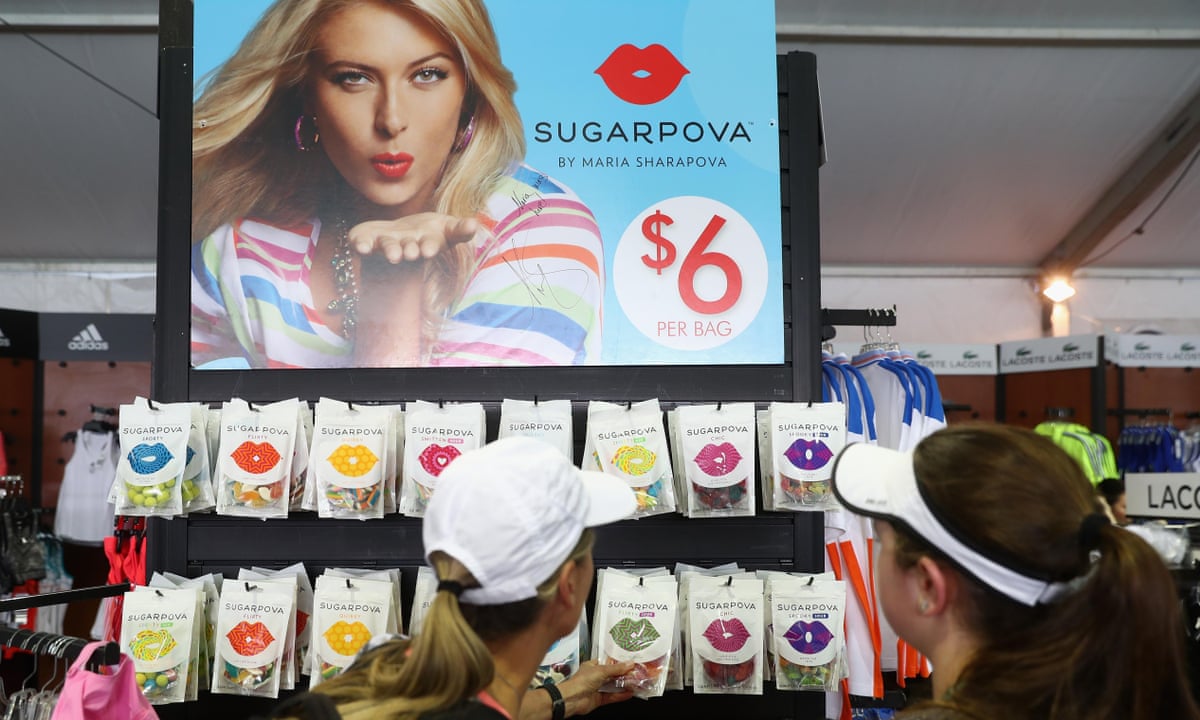 Maria Sharapovas brand of high-end chocolates will launch in May despite the tennis player facing a lengthy suspension after testing positive for the banned substance meldonium.
Baron Chocolatier, which is producing the sweet treats for the five-time grand slam winners confectionery business, Sugarpova, has robustly defended the player, saying the company believed she had made an honest mistake. Nike, Porsche and Tag Heuer, Sharapovas most lucrative sponsors, have cut their ties with the player.
Maria has been a role model for millions of people and she is a woman of integrity, Christopher Mattina, Baron Chocolatiers senior vice-president, told the Guardian. We think she made an honest mistake and she deserves credit for being open and direct about it. We hope she will be allowed to play tennis again but no matter what, we are proud to stand by Maria and to support her in this venture.
Sharapova had hoped to triple sales of the Sugarpova candy brand, which previously sold just gummy sweets, to 14m with the launch of the chocolate line this year shortly before the French Open.
The confectionary brand launched in 2012 and is sold in more than 20 countries, with Forbes reporting earlier this year that Sharapova had invested a seven-figure sum in the business, of which she is the sole owner.
Nike said on Tuesday it would be suspending their relationship and Swiss luxury watchmaker Tag Heuer said it was halting negotiations to renew Sharapovas contract. Porsche also said it was stopping promotional activities involving the tennis player.
But other sponsors, including Evian and skincare product Supergoop, have reserved judgment. Sharapova claimed she had taken meldonium legally for years for health reasons despite medics saying the drug is only ever intended for short-term use and had not realised it was placed on the banned list by the World Anti-Doping Agency from 1 January.
Holly Thaggard, founder of Supergoop, a brand that Sharapova co-owns, said she would stand by her business partner. While we are surprised and disheartened by Maria Sharapovas recent announcement, we value our relationship with her as a co-owner of Supergoop! and ambassador for our common cause of conquering the epidemic of skin cancer, Thaggard said. We appreciate Marias candour and will continue to support her as the International Tennis Federation investigation unfolds.
Head, the racket manufacturer, went further, saying it was proud to stand behind Maria, now and into the future and we intend to extend her contract.
The brands stance has been criticised by world No 2 Andy Murray, who is also sponsored by Head. I think its a strange stance given everything thats happened the last few days, he said. I dont really know what else to say on that, but thats not something I believe.
I think at this stage its important really to get hold of the facts and let things play out, like more information coming out before making a decision to extend the contract like that, in my view. I personally wouldnt have responded like that.
Read more: http://www.theguardian.com/sport/2016/mar/12/maria-sharapova-chocolates-to-launch-in-may-despite-drug-ban